Websites/Mozilla.org/Archive/webgagement/2011/Q3/Wrap-up
From MozillaWiki
Q3 Wrap-up Report: Your Web Campaigns & Projects By the Numbers

Snippet Channel
Main referral source of traffic to all Engagement Campaigns
Functional Persona Snippet achieved a .51% CTR within Aurora channel - 10.52% of all Aurora ADU's installed a persona from this snippet
mozilla.org/firefox
Web Team Supported all major releases and clobbered a total of 130 bugs through Q3 (http://bit.ly/ort3VU) Engagement Dashboard Designed final draft here - should go live early Q4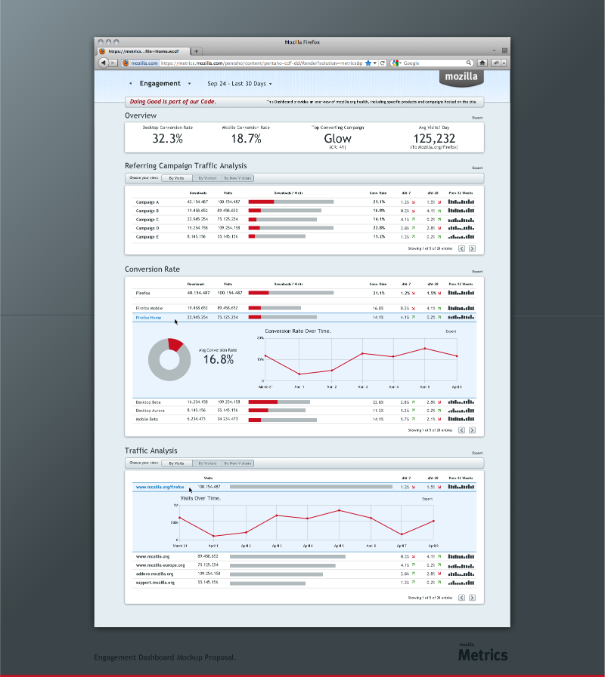 Persistent Messaging Campaign Targeted to users of 3.6 and below
265,336, unique visitors
619,752, page views
187,294, downloads
70.59% conversion rate
Engagement Dashboard Awaiting final edition but see preview here (LAURA ADD LINK) Mozillians (phonebook):
Goal: Sign-up the majority of Mozillians onto the phonebook
Basic metrics for Mozillians.org on 10/4:
614 total accounts
569 vouched
45 non-vouched
230 employees
Developer Profiles:
Goal: Enable MDN members to share more about themselves via profiles
Number of profiles created: 2750
Stats for profile fields updated:
Website: 146
Twitter: 115
Github: 71
StackOverflow: 32
LinkedIn: 47
Interests (tags): 77
MDN Dev Derby:
Goal: 10+ new demos every month; promote open technologies with coordinated campaigns via Twitter, Hacks blog and Dev Derby; engage with more Web developers working on the latest standards
Stats
July - HTML5
15 demos
August - History API
11 demos
September - Geolocation
16 demos
Traffic came from....
Organic search from Google / Bing
Twitter links
Personal engagement by evangelism team
Hacks blog posts
Positive turnouts....
Steady stream of demos are populating Demo Studio and we are building a community of developers that come back month to month to participate (new rules for allowing multiple entries until you win 1st place should help improve this in Q4)
What would we do differently?
Not much. Try to coordinate webcasts and blog posts at better times during the month to give our submissions a nice bump when needed.
MDN Kuma/Documentation:
Goal: Find our Agile/Scrum groove and average about 20 points per sprint. Dedicate more of our time to working on new Kuma features (primarily wiki) vs maintainance of production MDN website.
Stats:
0.9.8, July 14 - 14 points (14% wiki)
0.9.9, Aug 16 - 27 points (30% wiki)
1.0, Aug 23 - 30 points (33% wiki)
1.1, Sep 13 - 19 points (0% wiki, pushed at all-hands)
1.2, Sep 27 - 10 points (10% wiki, all-hands)
New MDN Profiles launched, with XXX users updating their profiles.
Positive turnouts....
Team is more disciplined with our 2 week cycles.
We have a solid roadmap through Dec 2011 with code freeze, testing, and launch dates... and we're sticking to it!
What would we do differently?
Plan out major prod MDN work as early as possible to manage Kuma development better (pushing bugs out due to other priorities makes it difficult to knock out major components and prep for future wiki features)
Whippet:
Goal: 100,000 personas installed
Traffic came from.... snippets / Facebook posts & N/letter (EN-US ony)
225,000 of personas applied (Campaign ends Oct 15, 2011)
Positive turnouts: super start to the new affinity partner program. Many learnings to scale for more similar partnerships.
What would we do differently?
Reconsider the promotional spots and type of engagement, at times it felt more of a commerical arrangement than we planned for. Note: it was hard workign with JK Rowling. We will have much more balanced approach going forward for both parties.
Affiliates Program (launching Oct 13):
Goal: Lanch the Firefox Affiliates program
Traffic came from... TBD
Positive turnouts.... TBD
What would we do differently?
Better communication about required build components and respective timelines
Back to School Add-ons Campaign (in market until Oct 31, page live until 2012):
Goal: Create a campaign to encourge students in the EN-US locale to download a BOYB of Firefox with productivity and social add-ons preinstalled (Evernote, Sharaholic, StumbleUpon, Zotero). Firefox users were invited to install an add-on bundle. Other browser users were invited to install the BOYB.
Stats: calculating
Traffic came from: Snippets, What's New, Mozilla & You, Google AdWords, Advertising in UK Student Unions and on Student Union Websites (as of Oct 3),Student Reps/recruiting flyer, Student Reps newsletter
Positive turnouts: Able to test out the BOYB campaign model in advance of the Firefox Workshop project; able to get some advertising in markets where competitors have been doing large marketing initiatives
What would we do differently? Get metrics connected to the campaign sooner in the build process as BYOB builds are not tracked like other FF downloads (totally a fail on Chelsea's part). Also see how we can localize this campaign for various back-to-school times around the world for future iterations of this campaign.
Webifyme:
Goal: 100,000 collages created in 30 days [bug 642348]
Stats: 1 million colllages created in 50 days [bug 681788]
Quiz completions [as of 9/26/11]
de: 41551
en-US: 651485
es: 72909
fr: 29178
pl: 23461
all: 813958
Completion rates:
de: 39%
en-US: 52%
es: 51%
fr: 44%
pl: 32%
all: 50%
Drop off rate:
de: 61%
en-us: 48%
es: 49%
fr: 56%
pl: 68%
all: 50%
Traffic came from....
73% snippets
10% Moz.com
4% Facebook
Positive turnouts....email signups...
1 in 4 users creating a collage signed up for our email newsletter
242,133 email sign ups
What would we do differently?
Regionalize content from the beginning (now part of World Ready)
Create a shorter quiz (5-10 questions instead of 20)
Use Playdoh
Thorough load testing early on
Email Preference Center: (Not completed.)
Goal: Roll out email pref center on mozilla.org
Status: In security review
Improvements: We have created a web service which handles all of the email signups so that the pref center and all newsletter signups are not directly dependant on Responsys. The service talks to Responsys, but sites don't care about that anymore.
What would we do differently? We would be more on top of the roles of IT and Security in this process so that we can move forward the deployment a lot faster. This project was easily blocked so it would have been good to map out dependencies and make sure things were happening.
Localization of Email Opt-in Pages:
Goal: Provide international moz.com locales with access to our English, French, German and Portegeuse newsletters.
Stats:
1M+ new email subscribers
Launched lists for France and Brazil
French subscribers: 12,000+
Brazilian subscribers:8,800+
44+ locales with opt-ins for Firefox & You newsletter
Traffic came from....
www.mozilla.com/newsletter
What would we do differently?
More robust promotion for newly localized French/Brazillian newsletters.
July, August, September Email Newsletters:
Goal:
Maintain 8% click through rate
Grow list to 3 million subscribers
Stats:
July
Open rate: 24%
Click thru: 8.42%
Subscribers: 1,023,023
August
Open rate: 23%
Click thru: 10%
Subscribers: 1,366,664
September
Open rate: 20%
Clich thru: 10%
Subscribers: 2,048,160
What would we do differently?
Collect segmentation points for subscribers (need pref center launched and start behavioral targetting discussions with privacy team)
More promotion of email opt-in earlier in quarter
Firefox Brand Toolkit:
Launched in Sept [1]
Goal:
Stats:
Traffic came from....
What would we do differently?
State of Mozilla: Goal: Share the State of Mozilla With the World Tweets:
84 RTs of: @Firefox We just published our State of Mozilla annual report! Check it out: http://mzl.la/mUtoga #SOM2010
More than 30 Tweets using the Hashtag #SOM2010
Facebook:
2,380 "Likes" on Facebook
173 comments on Facebook
Webtrends:
More than 140,000 page visits worldwide
Received global coverage, including:
US, Germany, UK, France, Italy, Poland and Spain
If you're interested in the full list of coverage and links, please email Shannon
Next year, we hope to lock content down a month in advance, so that l10n team has more time. We also hope to work with webdev on cool things we can do with data visualization. Facebook Fan Page:
577,290 new relationships +22.5%
Traffic came from....
182,621 from Mozilla sites
Twitter:
27,042 new Twitter relationships +14.0%